Meet Amanda of Teacher's Clubhouse
Amanda has been teaching 2nd grade since 1998, so she understands the life of a teacher! There are lesson plans to prepare, parent conferences to attend, bus duties to cover, and on and on! It is difficult to find the time in the day to locate that "perfect" activity for every topic. The books and units available in teacher stores are expensive, and often they contain only a few useful ideas. For years, Amanda has enjoyed creating her own classroom resources with unique details and touches that make them memorable for students. She loves the process of creating new ideas and putting them to paper.
Amanda began sharing her ideas with fellow teachers in her schools, on her website, and through online teacher groups. The response was very positive! She received emails from teachers from across the country requesting activities. Since she was teaching full-time, it was hard to respond quickly to those requests. So, she created Teacher's Clubhouse, a website that provides all of her classroom resources available for instant download. Also, through Teacher's Clubhouse, Amanda offers to create a limited number of customized, made-to-order classroom resources at very reasonable prices when time allows. Teacher's Clubhouse is the place for teachers to download individual activities, download entire units, or place custom requests for those hard-to-find activities.
Meet Amanda Madden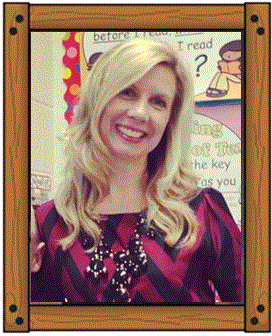 Amanda has been blessed to remain in 2nd grade for her entire career, but has taught at three different schools in Greenville County, South Carolina. She received a Bachelor's degree in Elementary Education from the University of South Carolina and a Master's degree from Columbia College. She is also proud to be a National Board Certified teacher in the area of Early Childhood/Generalist. Amanda has been honored with many awards throughout her teaching career, including finalist for district Teacher of the Year, Distinguished Reading Teacher of the Year, and PTA Teacher of the Year. She provided over 100 hours of teacher training per year through her role as a technology instructor for the district for many years. She has also provided workshops for teachers in the areas of reading, writing, math, games for the classroom, and preparation for the PRAXIS. Away from school, Amanda enjoys reading, cheering on her Gamecocks, shopping, and attending concerts with her husband, Andy. They have a rotten, black-and-white cat named Maggie and two spoiled Boxers, Chloe and Sampson.